This concept is now becoming more and more common, as more and more people decide to buy an intelligent device to improve some function in their home, either to open a door with an app or even to turn on the lights with a voice command and this is technically what this term means.
What is a Smart home? (smart home)
An architectural design with advanced technology, focused on allowing its inhabitants to live comfortably; the implementation of advanced devices and their combination with household items, is called domotics.
Currently, an intelligent house is defined as a site that implements Internet devices of Things, which connect to each other to offer greater comfort to the user, to visualize the state of the gas level until knowing which products of a refrigerator are about to expire.
In this sense, the first definition might well be the beginning of what the definition of an intelligent home really is today, but how did this concept change? How much did technology change over the years?
Although there is no exact date when the term "domotics" began to be used or in which years it was commercially integrated into a house, but it can be taken as a basis for what would happen later, such as control by voice and with an artificial intelligence of an entire home.
One of the first contributions to all this, is the integration of blinds and automatic doors for garage or windows of a house, which when pressing a button were raised or closed, this improved up to 40% the speed of opening or closing, on the other hand, the thermostat was another of the innovations with which you could level the temperature of your house or room, this mainly saves time and energy for all users.
Mainly, this type of devices were used for air conditioning, boilers, control of awnings and blinds, sun sensor, electrical management, lighting, automation of lights on and off, as well as security systems such as alarms, motion detectors, fire detectors, medical alerts and security cameras.
Currently, all these devices have been improved and evolved over time, so that only by using your voice or an application from your cell phone, you can see everything that happens, from controlling the weather in a single room, turn on the spotlights of a color or just in a room, among other things.
The concept of "domotics" refers to the construction of a house designed to integrate technologies that allow, mainly saving energy or supplies, but where are the houses that were not built for this purpose?
At this point, the evolution of each one, allowed that, even if you don't have a specifically designed house, you can install any gadget to it, such as blinds or an intelligent light control, but what do you need to do all this?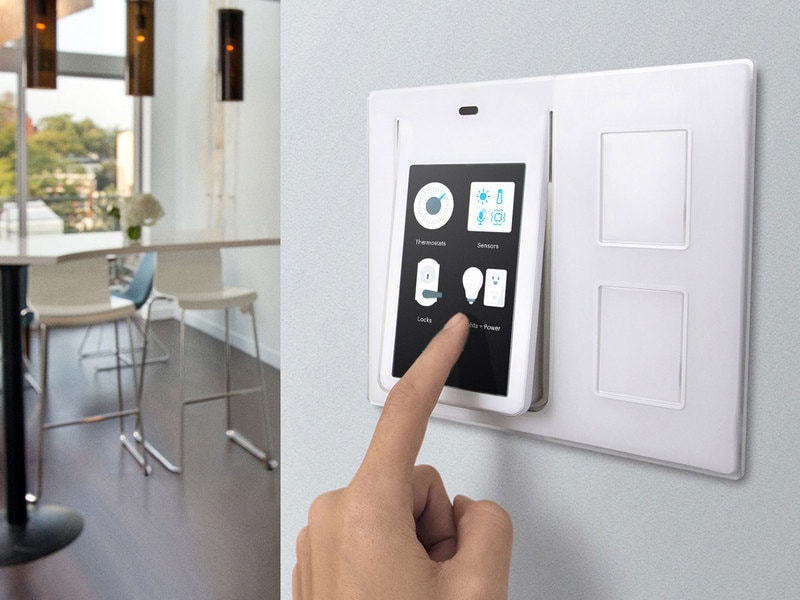 The installation of each one is mostly quite simple, since you only need to color it at a strategic point for it to work, as is the case of a multisensor, which helps you detect if any door or window is open, this only needs a clean surface to be placed.
Another case of a simple implementation or simple to install, is a smart curtain or spotlight, as each has its own applications that will guide you in it, basically just need to place and synchronize, all the alerts you can receive on your smartphone, control the level of light, whether to open or close a curtain, among other things.
One of the additions that optimizes the use of all these is a voice assistant, as is the case of Homepod, Amazon Echo and Google Home, each one has the ability to integrate perfectly with different devices, so that instead of opening the application on your cell phone, only with two voice commands you can turn on lights, open or close windows, among other functions.
What are the main benefits of a smart home?
The main decisive factor to be able to do this, is the saving and comfort of the users, because by optimizing all the processes of a house, no matter how simple they are, saves time and energy, How does it do it?
It's simple, if you usually cleaned your house with specific devices for this, such as a vacuum cleaner or you did it manually with a mop and water, now it's possible to acquire a robot that takes care of this, cleaning liquids, disinfecting and leaving everything completely clean.
Another situation would be to buy smart spotlights and speakers, each one linked to each other, will allow you to save energy, as you will not use common spotlights and a stereo, just link each one, for example, with Amazon Echo, which, thanks to its artificial intelligence, Alexa, you can play songs with excellent quality and change the intensity or color of the lighting of each room in your home.
How much do I have to invest to get all these add-ons?
Maybe listening to everything you can do with a single device could make you think that everything has a high cost and maybe it could have it (it depends on the brand and availability in Mexico), but if you really look for what you need what you can implement, you could save on costs.
First, what you have to consider is what you need most, to gradually adapt everything that is necessary in your home, Sound? Lighting? Energy consumption? Security? This will help you define what you need most.
First, if you want to have an intelligent sound system that gives you an impressive quality, you could buy a Homepod, Amazon Echo or Google Home, of these three the one that offers more benefits, is Google, because it has a better integration and compatibility with the Smart ecosystem.
One of the main recommendations of Salomon Saad, is that you focus on lighting, "if you install one of these devices in your home and you like the time you save or the ease of turning on or off a light, you could try with a lock or even a switch and / or contact with wireless switch, so gradually you can implement everything you want in your home, there are devices that have a low cost, that with 399 pesos, you're already starting with this automation process" says the manager.